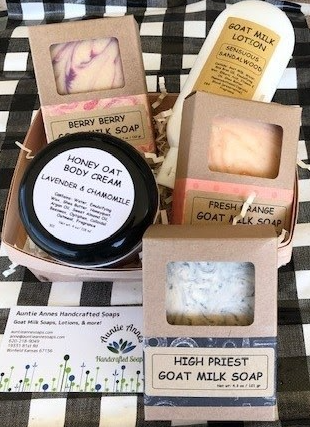 This Auntie Anne's gift basket will be part of our giveaways at the Fall Festival this year!
Auntie Anne's Handcrafted Soaps specializes in goat milk soaps, lotions and creams.  The goat milk soaps are made in small batches, using raw goat milk, natural ingredients, and premium quality oils. No harsh chemicals, detergents, or preservatives.  Goat milk soap is amazing!  The rich creams and fats in goat milk make the soaps deeply moisturizing.  Goat milk is uniquely high in AHA acid, that helps gently exfoliate your skin.  You will feel clean and fresh after every shower!
Auntie Anne's lotions and body creams are also made with natural ingredients and premium oils.  Anne offers a variety of goat milk lotions, hemp oil lotions, honey and oat body creams – in a range of fragrances. 
Pamper your skin, you'll feel the difference!